Driving School in Manhattan Beach - Driving Lessons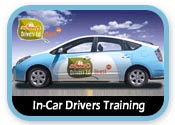 Manhattan Beach Driving School, in conjunction with Drivers Ed Direct, brings teenagers in Manhattan Beach the best driving lessons you can get to fulfill your CADMV licensing requirements. What sets us apart from our competitors? We are local, affordable, have the best vehicles, and the best instructors. In fact, we have male and female DMV licensed instructors who are patient, friendly, professional and have plenty of teaching experience. Give us a call today and talk to any of our friendly representative to see how we can help you get started on the road to driving today!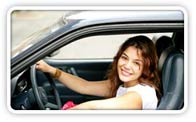 Full Service Manhattan Beach Driving School
Enhance your drivers training experience with our online defensive driving resources. We have teen driving awareness programs, parking simulation games, and driver safety articles and newsletters. Just another reason why we're the favorite Manhattan Beach driving school.


All of our instructors deliver more than just an educational experience; they know how to make Manhattan Beach teens feel relaxed so they can better learn to drive without all the nerves.


After each driving lesson, parents are emailed a detailed parent report discussing the students progress, strengths, trouble areas, and recommendations.


All of our instructors follow a detailed lesson plan ensuring that students get quality, consistent training from each and every one of our industry-best instructors.
Benefits of Our Manhattan Beach Behind the Wheel Lessons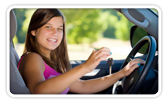 Manhattan Beach driving school teaches the highly effective I.P.D.E. (Identify Predict Decide Execute) Defensive Driving methodology; The I.P.D.E. method helps new drivers avoid potential hazardous situations and gets them thinking like more advanced, experienced drivers.


Throughout the course of your driving lessons you will gain a thorough understanding of the rules of the road, traffic regulations, traffic law interpretations, and what to do in certain emergency situations.


Students taking our Basic 6-hour Driving Package get a beginner's "introduction to the Freeway" which entails merging onto the freeway, learning freeway basics, and exiting freeway.


All driving lesson packages begin with residential driving techniques. Students will learn the driving basics like: vehicle controls, right of way rules, curb-side parking, right turns, left turns, getting into driveways, stopping, accelerating smoothly, and more.