CADMV Licensed Driving Lessons in Manhattan Beach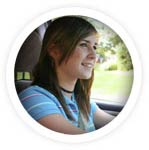 Learning to drive is a big event in anyone's life, and for some teens, it can be quite the nerve-racking experience. At Manhattan Beach Driving School, student drivers get the peace of mind they need from our excellent instructors who teach with patience and empathy. Besides being friendly, our driving instructors are also qualified, DMV licensed, and highly trained. Also, we only use driver training vehicles that meet the strictest of safety standards. Choose between hybrid SUVs or hybrid cars; each car is outfitted with a dual braking system, anti-lock brakes, front and side airbags, and stability control systems. Sign up for 6, 10, or 20 hours packages. We also have pay as you go options available. Our Manhattan Beach driving school is here to make the future drivers of tomorrow safe and ready for the road.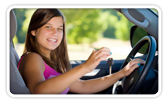 What You'll Learn with Manhattan Beach Driving School Lessons
At the beginning of every lesson, students will review what they practiced on the previous lesson. This helps reinforce concepts already learned and ensures that the student is ready to start practicing in more complex driving situations.


Level 2 driving lessons are conducted out on busier Manhattan Beach streets. Students learn how to make lane changes and complex turns at busy intersections. Defensive driving and accident avoidance techniques are also practiced.


Students will learn how to navigate and park in public parking lots. Students will practice driving safely around pedestrians and how to park in both diagonal and perpendicular parking spots.


Students taking our Basic 6-hour Driving Package get a beginner's "introduction to the Freeway" which entails merging onto the freeway, learning freeway basics, and exiting freeway.
The Most Complete Driving School in Manhattan Beach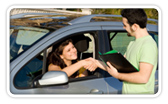 Besides being DMV licensed, our instructors are trained both in the classroom and on the road. All instructors also go through a strict background screening process, drug tests, and have prior experience working with teens on their resume.


After each driving lesson, parents are emailed a detailed parent report discussing the students progress, strengths, trouble areas, and recommendations.


All of our instructors follow a detailed lesson plan ensuring that students get quality, consistent training from each and every of our industry-best instructors.


Manhattan Beach Driving School only offers driving lessons in the best vehicle with all the safety features: front airbags, side airbags, dual brakes, GPS systems, stability control, and ABS